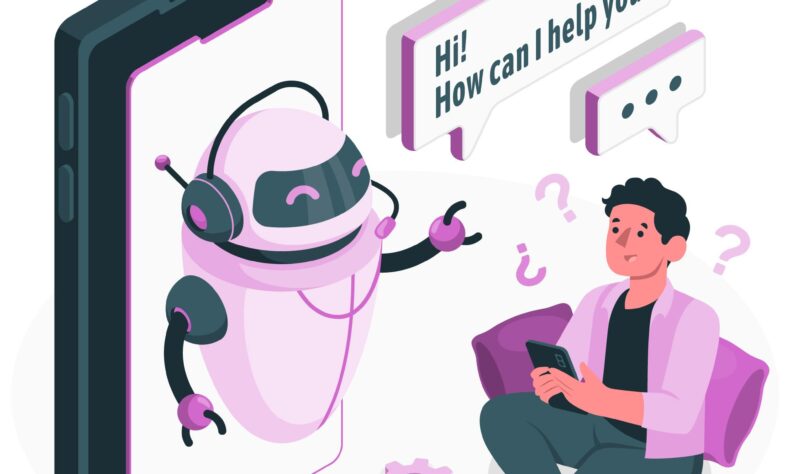 In the present world, chatbots are more than just computer programs.  They are like personal virtual assistants who understand and interact with customers. According to Gartner, chatbots will be the main customer service tool for 25% of firms by 2027.
To survive in this highly competitive market, where customers interact with businesses via chatbot, the relevance of Chatbot App Development is greater than ever. As per industry experts, chatbots are the future, and businesses that embrace them will succeed in the future.
Why Your Business Needs Chatbots
Sales Growth: Business leaders claim that on average, sales chatbot improved their organizations' sales by 67%. Chatbot offer greater customer interactions, 24/7 availability, and personalized suggestions, resulting in increased lead generation. Real-time customer communication (Conversational commerce) with chatbots helps customers find preferred items, which improves the likelihood that they will make a purchase.
Lead generation: According to industry experts, one of the major benefits of having a chatbot is lead generation. Instead of requesting users to fill out lead generation forms, businesses can integrate chatbots into their websites to collect consumer data.
Scalability: As business expands, a chatbot can easily handle a huge volume of chats, without compromising on its response time. Chatbots are designed to be scalable so that they can handle rising demand without sacrificing quality, whether there is a spike in customer queries or the need to expand customer support operations.
Customers Get Answers Faster: Chatbots are more time-efficient than human agents from a management standpoint. During peak hours, human agents usually face a long queue of customers. Many times, customers may be left waiting. Chatbots, as opposed to human agents, can respond instantly to multiple client inquiries, reducing the waiting time and cost of hiring a human agent to respond to customer queries.
Chatbots Enhance Brand Value: When it comes to brand value, the first impression is the last. By interacting with consumers in a friendly and courteous manner, a chatbot not only boosts your business's face value but also creates awareness about your products and services. With its human-like behavior, chatbots maintain a natural, well-structured dialogue, resulting in less customer discontent and improving brand satisfaction.
Cost-saving: The initial cost of implementing chatbots will be a certain sum. However, this cost is far less than the usual client assistance model, which includes customer service representatives' salaries, infrastructure costs, employee training and hiring expenses, and more. Chatbot can significantly reduce operational expenses by automating repetitive tasks, including answering customer inquiries, scheduling appointments, and even processing transactions.
Personalization: According to a Statista report, 44% of survey respondents are willing to switch to brands that offer personalized experiences. Chatbot can gather and store users' data, like preferences and past purchases. Businesses can use this data to deliver highly personalized recommendations, offers, and support, resulting in higher sales. Furthermore, chatbots can access user's previous interactions with the organization and tailor their responses to their inquiries, enhancing the overall customer experience.
How Much Does an AI Chatbot for a Website Cost?
A chatbot's cost is often flexible and depends on a variety of factors such as the type, functionalities, features, complexity, customization, and purpose.
The cost of development also depends on the type of advanced technology you want with the chatbot. However, in general, the estimated price range for a high-quality chatbot could be anything between $500 to $10000.
Seeking to hire the best Chatbot App Development Company in India? Look no further! 
Indian companies are known for providing excellent custom Chatbot App Development services. They possess relevant skills and in-depth knowledge about the latest trends and futuristic technologies to assist companies to design and deploy chatbots that stand out in the online world. Among these companies, Android Developer excels particularly in providing exceptional chatbot app development services within the country.
Android Developer: Your Trusted Chatbot App Development Partner
Android Developer is a top-notch chatbot app development service provider in India that assists clients in developing customized chatbot applications. Their team of skilled developers has extensive expertise and understanding in creating secure, scalable, reliable and flexible chatbots.
Why Choose Android Developer for Your Project?
Rapid App Development
Analytics and Dashboard
Experienced Designers and Developers
International Quality Standards
Trusted & Transparent Reporting
Agile Development Approach
Don't worry! From Smart Chatbot to Rule-based Chatbots, and Hybrid Chatbot to AI Chatbots, Android Developer's expert developers have got you covered.
Android Developer is known for offering cost-effective solutions, without compromising on quality. You can also hire developers from Android Developer at reasonable rates. However, the cost of Chatbot development can vary based on factors such as the complexity of the chatbot, the features required, and the level of customization.
Wrapping Things Up……
"Chatbots are the Future"
With the advent of chatbot, the adage "people interact with people" was no longer true. Chatbots are positively transforming the business landscape. The future of chatbots is bright and promising, as they can make businesses effective in terms of services and sales.
When it comes to building a chatbot, selecting the right partner is half of the job. As a trusted partner, Android Developer assists you in developing next generation chatbots.