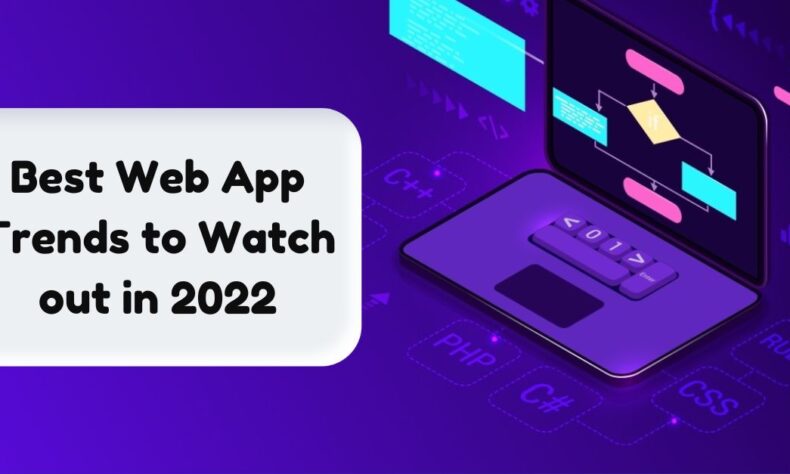 Best Web App Every year, some of the changes or you can say improvements come in the domain of web development. Therefore, in order to stay up to date, it becomes necessary for businesses to follow the latest web development trends. A robust website or mobile app that is in sync with the latest development trends is needed to stay competitive and relevant.
Not following the latest trends can be disadvantageous and can affect user experience. Also, there is possibility to stay behind the competition and lose users to websites that are capable of providing them with high-class user experience. The finest approach to stay relevant and competitive in your domain is to get your website or mobile developed or updated as per the latest trends.
Leading Web Development Trends to Check out in 2022
The popularity of dark mode has increased all over the world. Also, it is anticipated that the popularity of the trend is going to continue to increase in the approaching years. Established companies like Facebook, Google, Twitter and Reddit are using dark mode UI.
Progressive web apps Best Web App
Progressive web app (PWA) plays an important role and is a leading web development trend. It basically works on web however it gets installed on smart phone as well. Moreover, progressive web app is completely responsive, that means it is possible to open it on smart phone like mobile app. Its UI and UX is made similar to mobile app. When a user needs to use a mobile app of a business, the user can even install the PWA of the business. PWA has small file size. Moreover, PWA works like a mobile app and offers the features that are provided in mobile app.
Accelerated Mobile Pages (AMP)
AMP technology is quite popular in today's time. If your web pages have AMP versions, then it quite good from SEO viewpoint. AMPs are capable of opening quite fast on mobile web browser. When opening the webpage on desktop or laptop, the webpage will open gradually as programming components of the webpage are going to be loaded. It is recommended to define AMP versions of webpages.
It is easy to do on WordPress. In case you are having a web development team, then web developers can do the task quite easily by creating the AMP versions of web pages. On WordPress, AMP plugin can be installed that is capable of creating AMP versions of your webpages. Whenever, your web pages are going to be accessed on mobile, users are going to access your web pages very fast.
Speed of webpages is an important factor in today's time. With the application of AMP technology, desired and quick speed for webpages can be achieved on mobile.
It is highly important to make sure your website has responsive design. Moreover, responsive web design is not a new concept or trend in 2022, however it is essential to ensure that website is having a responsive design and is capable of changing its shape and size suitably as per the device on which it is opened and is opening perfectly on desktop, laptop, smart phone and tablet. In case the website is not having responsive design, it is highly suggested and important to have a responsive web design for the website for having improved user experience.
Voice search is a latest trend that must not be neglected. It is supposed that it is going to have a considerable influence in the approaching years. You can optimize your website for voice search. Optimizing the website for voice search is effective and advantageous in staying ahead of the competition and not losing business in future.
In case you website has large number of users, for instance 300 users accessing your website at a particular time, in that situation, there will be load on server and that could lead to problem. Through the use of single page applications, users going from one web page to another, elements or sections that are same on all the web pages does not need to be loaded again and the section or content that is going to change or present exclusively on the new page is only going to be opened.  The content that is different and available on the new page gets opened through the application of JavaScript. SPA is a popular and widely utilized web development technology. Distinct from conventional website apps, the whole website gets loaded on a single page ahead of loading different content on that page.
AI chatbots facilitate companies through accelerating functions and augmenting user experience. They are capable of helping users coming to the website and answering their queries. AI chatbots help users in providing answers and solutions to their queries. Through the application of chatbots, users coming to the website can communicate with an AI assistant and get relevant answers for their queries.  They are capable of responding quickly to queries of users and providing an effective user experience.
It is highly important to develop or update the website by prioritizing mobile first development. In mobile first approach, website or web app is first of all designed and developed for mobile and then it is made responsive for desktop and laptop screen. Implementing a mobile first development approach is highly useful to a business who is going to get large amount of traffic to its website from mobile devices.
Wrapping up – Implement the Latest Web Development Trends to Stay Competitive
In 2022 and approaching years, the web development trends presented above are going to refine the way businesses interact with users and customers. Implementing the abovementioned web development trends is going to help businesses in providing an up to the mark and perfect final product and seamless and delightful user experience.